Apartment Dining Room Ideas In West Lafayette

Your apartment dining room is more than just a location to eat before hurrying off to your busy life. It's where you spend time with those you love, having peaceful conversation or a fun-filled night of board games. Chances are you'll make good use of it, so it's smart to decorate the room in a way you and others will appreciate.
If you're getting set to move into your new community, try these apartment dining room ideas in West Lafayette to craft an appealing, practical space.
Integrate Some Style Into Your Dining Room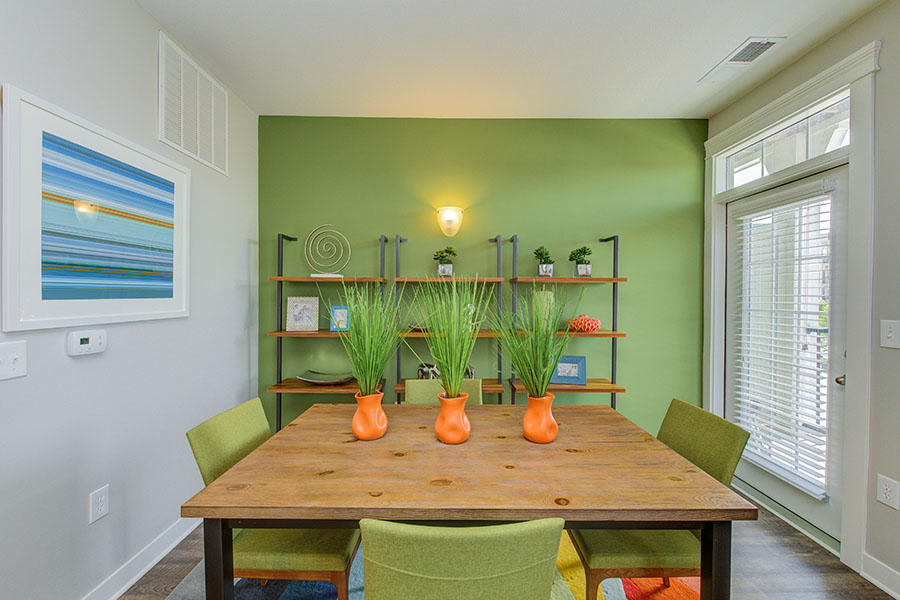 Your West Lafayette apartment dining room doesn't need to be dull. There's no requirement that states your apartment dining room in West Lafayette must be unexciting. In fact, work in some flair and showcase your own taste. You might accomplish this by creating your own centerpiece or adding inspired wall art or a free-standing piece. If your style is a little more subdued, you could simply choose appealing plates, vases, and placements. Chairs are another opportunity to showcase your design expertise by using cushions in your choice of colors and styles.
Here are some other tips on styling your dining room:
Make sure that it flows with other rooms, such as your kitchen or connected living space. This is particularly vital for open floor plans. If your kitchen includes cabinetry of a specific stain color, it's a wise choice to reflect that in the hue of your dining table and other furnishings.
If you have an open floor plan, you are able to better define the space with an area rug. This will contribute a unique design element while minimizing noise as chairs slide out.
Utilize Appropriate Tables And Decor In Your West Lafayette Apartment Dining Room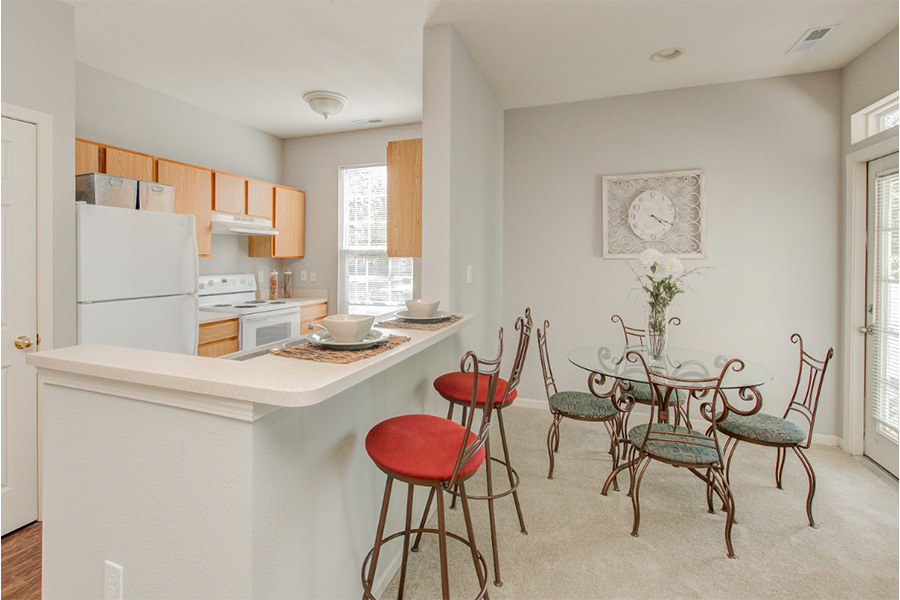 Whether your apartment dining room is large or tiny, it's important to select furnishings that are proportionate to the size of the space. Armchairs and bulky china cabinets can make the room seem confined. Alternatively, pieces like curved tables are space smart. They're less obstructive, and you can mix in an extra chair when needed. If you use a rectangular table, bench seating you can set next to a wall is a smart alternative. You could even consider a corner bench when space is truly at a premium.
Here are a few other ideas for making the most of your space:
Versatile pieces like extendable or drop-leaf tables are a wise option. You may also add a buffet or sideboard for extra storage.
A sizeable mirror is able to make the room look larger by reflecting light.
On a side note, don't lose sight of comfort when selecting your tables and chairs. When you're a few hours into that spirited board game, you'll be happy your seats have some cushioning.
Furnish Your Apartment Dining Room At Continuum Apartments
Put those new apartment dining room ideas to useIntegrate your new apartment dining room ideasNow that you are equipped with some fantastic apartment dining room ideas, put them in action at Continuum Apartments! Our inspired apartments in West Lafayette can be found in several different floor plans to meet your own taste. You'll also find a wonderful collection of amenities to enhance your lifestyle. Schedule a tour to see what we can provide, or just give us a call at (765) 476-0886.